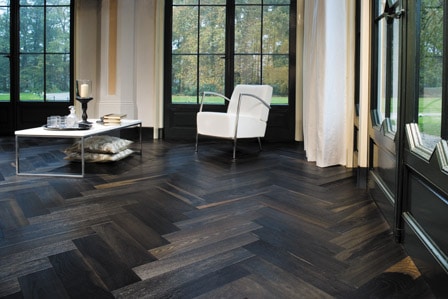 If you want to do something creative with hardwood flooring but you do not want to use the chevron pattern, then there are other great herringbone flooring patterns. Herringbone flooring is a traditional floor pattern from Europe. This flooring pattern can be seen in many European homes old and new.
This type of flooring is installed piece by piece in different arrangements, and you can use a border or not during installation. In addition, herringbone flooring can be designed parallel to the wall or diagonally. This style of flooring looks the best when the points of the floorboards run in the longest direction of the room or towards a focal point. If you install the flooring diagonally, you will use more flooring.
For the best results, herringbone flooring should be glued down or nailed down. You can do a single pattern or a double pattern with this flooring, and the only difference is that the double pattern uses four planks instead of two for the pattern. The pattern itself does not evenly meet like chevron flooring does. You can also do the diagonal pattern. Each of these three patterns are illustrated below:
Diagonal
Single    
Double   
Click here to see our hardwood flooring.
Click here to see our Janka Hardness chart, which is used to measure the capacity of different species of wood to withstand pressure.